Company History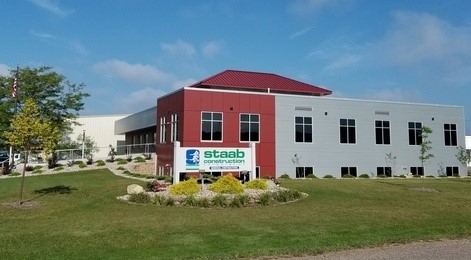 Aaron E. Staab started his career in construction working summer jobs while attending college. Following graduation in 1972 from the University of Wisconsin – Madison with a Civil Engineering degree, Aaron went to work for Madison-based Cepek Construction as a project manager. In 1976, Aaron opened and managed a branch office of Cepek Construction in Marshfield. Here he grew the Company to 75 employees by 1984 when the branch office closed.
On August 28, 1984, Aaron incorporated Staab Construction Corporation and began building another successful business with eight employees from Cepek Construction. Office operations were located at 101 North Peach Avenue. The new Company continued building similar projects in water and wastewater treatment with significantly less employees and equipment.
In 1988, Staab Construction Corporation Company implemented an Employee Stock Ownership Plan that allows all employees an opportunity to own company stock. During profitable years the Company contributes money into employee's ESOP retirement plan account. The plan then invests in stocks and bonds of Staab Construction as well as other marketable securities. Employees continue to own 100% of the Company.
As business grew and required more space, Staab Construction Corporation relocated in 1992 to the current office and shop facilities at 1800 Laemle Avenue in Marshfield's east industrial park. In 2016, a major office addition and upgrade was completed to meet our ever increasing needs.
Employees of the Company travel throughout Wisconsin and bordering states as general contractors of projects ranging up to $25 million focusing on municipal and industrial wastewater treatment and pumping systems, municipal water treatment and supply facilities, water control structures and dams for both public and private customers.
The success of Staab Construction Corporation is attributable to the dedication and hard work invested by employees and lasting relationships developed with partners in our industry.